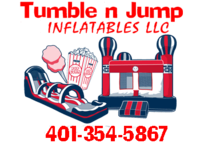 GENERAL RULES TO FOLLOW DURING USE OF FUN BOUNCE 
1. Children must be supervised at all times
2. Shoes, glasses, and sharp objects must be removed before entering bouncer
3. Children must were socks in bouncer
4. Only compatible age groups and size shall play on the unit at the same time. The maximum number of riders of each group that should play in the unit at one time are:
 

UNIT SIZE

CHILDREN 8 & UNDER

 

CHILDREN 9 TO 12

OLDER TEENS

ADULTS

10' X 10 '

    5 - 6

    NONE

  NONE

 NONE

13 ' X 13'

       8

        5 - 6

   3 - 4

  3

15' X 15'

      10

        6 - 8

   4 - 5

 4
5. To avoid neck and back injuries, FLIPS wrestling, running, or pushing IS NOT ALLOWED.
6.  Absolutely no "Silly String", gum, candy, food or other sticky substances are allowed in the unit.
7. DO NOT MOVE the unit from the place where it was installed
8. No climbing hanging on the unit.
9. Under no circumstances is climbing on the exterior of the inflatable allowed.
10. Keep dogs and all other pets away from the inflatable
11. SPECIAL INSTRUCTIONS unit's equipment is reliable. Should the unit begin to deflate: (1) The motor may have stopped, in which case, check the cord connection at the outlet near the motor, and remember to keep only the 100 foot extension cord on the outlet (stronger outlets are in the kitchen and laundry room). (2) If the motor is continuing to run, check the air intake on the side of the motor for blockage, and check both tubes at the back of the unit for snugness, re-tie if necessary. (3) If you cannot correct the problem call (401) 354-5867.
Copyright 2010, Tumble n Jump Inflatables(tm) 401-354-5867